We encourage you to explore these additional resources designed specifically for people with lupus.
Patient Resource Translations
The Lupus Fact Sheet provides an overview of lupus, including signs and symptoms, diagnosis, treatments, and health implications.
The Symptom Tracker facilitates communication with your doctor by helping you track the onset and duration of symptoms between visits.
This pamphlet provides an overview of the implications of lupus and other rheumatic diseases on pregnancy.
Explore our offering of educational talks to learn more about how you can be actively involved in managing lupus.
This illustrated story highlights the importance of following your doctor's instructions and the value of good communication between patient and physician.
This illustrated story offers suggestions for both providers and patients on managing lupus.
This infographic provides key facts about lupus, in a quick, easy to understand format.
ClinicalTrials.gov Clinical Trials Research
Promotores Education
Understanding Lupus: a training program to educate promotores about lupus.
More on Promotores Education
Did you know that Latinas have a higher risk of lupus and tend to have more serious complications from lupus than White women?
Or that:
Lupus is a chronic, autoimmune disease that can cause inflammation in almost every organ, caused by the autoimmune system attacking its own cells and tissues?
Lupus is more common in women than in men?
Women are often diagnosed between ages 15 and 44?
Although there is no cure for lupus, there are medications and lifestyle changes that can help people with lupus manage the disease so that they feel better?
While lupus is more common among Latinos than many other racial and ethnic groups, much of the Latino community may be unaware of lupus and its consequences.
Promotores can help by raising awareness of lupus!
Promotores are Latino-serving community health workers who work to educate and reduce health barriers faced by members of the Latino community.
The American College of Rheumatology's Understanding Lupus training program provides promotores with knowledge and skills to raise lupus awareness. Understanding Lupus expands promotores' outreach skills to help them understand lupus signs and symptoms and raise lupus awareness.
Help us raise awareness of lupus in Latino communities by holding a lupus education session for promotores in your network and/or community using Understanding Lupus Curriculum! Together we can raise awareness of lupus and improve health outcomes!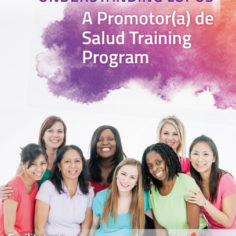 Click here to learn more and to access our materials in English
Click here to learn more and to access our materials in Spanish
Important Note: Latinos is used throughout these webpages and Understanding Lupus training program to represent the Latinx community.
Living with Lupus: One Man's Perspective
Climbing Higher: Shanelle's Lupus Story
Mira este video para que cada vez seamos más los que hablamos de Lupus.
Educational Talks
Personal Health Records (con subtitulos en Español)
Itara Barnes of the American College of Rheumatology discusses the importance of Personal Health Records (PHR).
Un Resumen General de Lupus/Lupus Overview
Dr. Irene Blanco gives an overview of lupus.
Lupus y Su Corazón/SLE and Cardiovascular Disease
Dr. Mario J. Garcia discusses lupus and cardiovascular disease.