The Lupus Initiative celebrates the life of Dr. Evelyn Hess, pioneering lupus researcher
The Lupus Initiative is saddened to learn of the passing of Evelyn V. Hess, MD, former ACR master member, distinguished professor emerita, founder and former chief of the division of immunology, allergy, and rheumatology at the University of Cincinnati Medical School. Over the course of her notable career, Dr. Hess made outstanding contributions to the advancement of lupus research through her
trailblazing work in areas such as the environmental aspects of the disease.
In recogni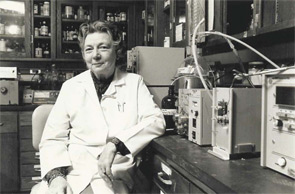 tion of her work, she received a multitude of professional honors including the 1996 American College of Rheumatology Distinguished Rheumatologist Award. In 2005, the Lupus Foundation of America established the Evelyn V. Hess MD, Research Award that is presented annually at the American College of Rheumatology annual meeting to honor a researcher whose body of work has significantly advanced understanding of the causes and treatment of lupus. We offer our gratitude to Dr. Hess for her service, and our thoughts and prayers to all those who loved her dearly.