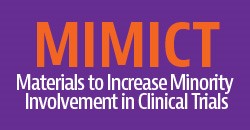 The American College of Rheumatology (ACR) received federal funds from the Office of Minority Health (OMH) to develop Materials to Increase Minority Involvement in Clinical Trials (MIMICT) to help increase provider awareness about lupus clinical trials and increase minority patient referrals to clinical trials.
MIMICT includes a distribution toolkit for clinical trial sites and an educational toolkit with course modules and patient materials for providers.
We are seeking lupus clinical trial principal investigators/site leads and site staff in Atlanta, GA, Research Triangle, NC and Cleveland, OH to participate in a field study.
Clinical trial sites will be asked to use the MIMICT materials and recruit 7-10 local providers with whom to share the educational toolkit over several months. Each participating site will receive $1,000. Participating principal investigators/site leads will be asked to complete a series of three phone interviews and will receive a $50 incentive for each interview. Clinical trial site staff will be asked to complete a series of 4-6 short online surveys tracking the progress of using the MIMICT materials and will receive $25 for each survey.
If you are interested in participating, please take five minutes to complete the information at this link. Or, contact: Kelsi Jackson, a research assistant at KDH Research & Communication (KDHRC), at 404-968-8013 or kjackson@kdhrc.com
Please respond no later than 11:59 PM ET on Thursday, April 5, 2018.