With a goal of increasing minority participation in lupus clinical trials, the U.S. Department of Health and Human Services, Office of Minority Health funded the American College of Rheumatology (ACR) to evaluate and disseminate a model supported by educational material. The ACR and its partner, KDH Research and Communication (KDHRC), developed Materials to Increase Minority Participation in Clinical Trials (MIMICT) for clinical trials, referring physicians and patients to use in achieving this goal.
To create MIMICT, the ACR convened ACR members, clinical trial sites, lupus research organizations, representatives of pharmaceutical companies and national physician membership associations to provide input from the perspective of a wide variety of stakeholders.
The Advisory Committee contributed to model design, developed the content for MIMICT materials and approved the Dissemination Plan, which was developed by a separate workgroup and contains strategies for the dissemination of the model and related materials.
We are pleased to announce the initiation of Phase 2 of MIMICT. Phase 2 will expand the scope of MIMICT to (1) focus on primary care providers serving Latino patients, (2) include a focus on nephrology and dermatology health teams (including physicians assistants, nurse practitioners, nurses and others) as referral sources, and (3) incorporate more evidence-based and expert-informed practical guidance on how the clinical trials sites can most effectively conduct outreach to providers using MIMICT. We are excited to team with new project partners, University of North Carolina at Chapel Hill and University of Rochester Medical Center, and additional advisory committee members. More information is in the sections below.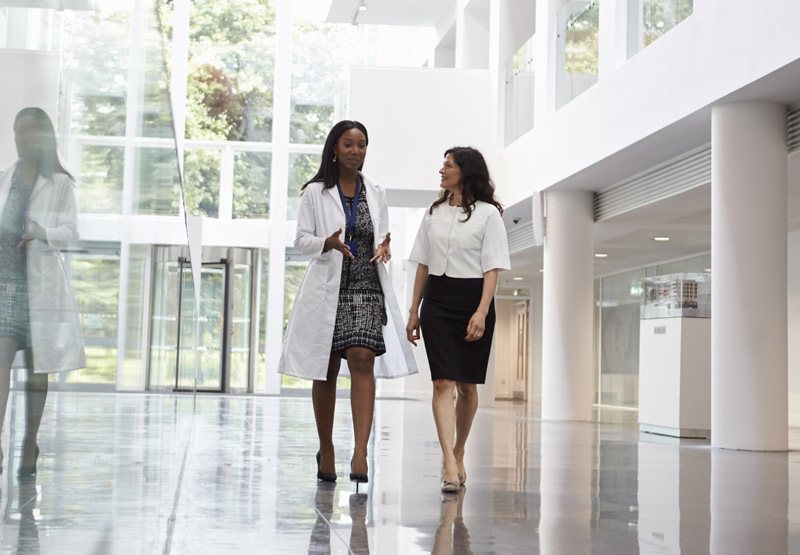 Project Partners
American College of Rheumatology (ACR)/The Lupus Initiative (TLI)
Sheryl McCalla is the Vice President, Strategic Initiatives for the ACR and leads TLI, ACR's national education program designed to reduce health disparities experienced by people with lupus.
KDH Research and Communication (KDHRC)
Kristen D. Holtz, PhD, the President and CEO of KDHRC, constructs and evaluates public programs with a mission to produce and disseminate creative, objective, and timely information to improve the health and well-being of the nation's youth, families, and communities. Nicole Wanty is a Senior Research Associate I at KDHRC. Her areas of focus are research design, qualitative evaluation, drug abuse education and prevention, chronic disease prevention.
University of North Carolina at Chapel Hill
Saira Z. Sheikh, MD, Assistant Professor, Rheumatology, Allergy & Immunology, directs the Lupus and Clinical Trials Programs at the UNC Thurston Arthritis Research Center. She takes care of a large cohort of lupus patients, a significant percentage of whom belong to ethnic or racial minorities and she is working to address health disparities in lupus clinical trials. She is involved in efforts at UNC to improve the infrastructure of clinical trials across the institution. She is Principal Investigator on several clinical trials evaluating new therapeutics for lupus, is Center Director for the Lupus Clinical Trials Consortium and is on the steering committee for the Lupus Clinical Investigators Network. She is also working with other scientific collaborators to develop new and specialized assays that can serve as potential biomarkers for lupus.
University of Rochester Medical Center
Allen Anandarajah, MD, MS, Associate Professor, Allergy, Immunology and Rheumatology, was the Clinical Director of the division of rheumatology between October 2006 and October 2017. He has a Masters in Medical Management and expertise on quality improvement programs. In 2017 he established the IQ-LUPUS (Improve Quality in Low-income, Underserved, Poor, Underprivileged, SLE patients) project in the city of Rochester and Monroe County. The project aims to improve quality of care for high-risk, high need patients with SLE from the inner city areas by improving access, providing educational resources and helping change modifiable social and behavioral factors that negatively impact the health of this mainly minority populations.
Advisory Committee
Cynthia Aranow, MD; Professor, Center for Autoimmune and Musculoskeletal Disorders, The Feinstein Institute for Medical Research, is an expert in rheumatology with additional expertise in lupus. Dr. Aranow serves as co-director of the Clinical Trials Unit and as Clinical Director of the LCTC (Lupus Clinical Trials Consortium), an organization which promotes readiness for interventional studies of promising agents for SLE. Dr. Aranow also contributed to multicenter international studies looking at clinical outcomes in lupus as a member of the Systemic Lupus International Cooperating Clinics (SLICC).
Sheree Bryant, MA; F1 Patient Expert. Sheree was diagnosed just as she completed graduate school in 1998, although she experienced symptoms such as hair loss, fatigue, swollen lymph nodes and joint pain years earlier. Sheree admits that the illness has taken a great toll in most facets of her life especially her family life. She has learned to manage her lupus nephritis through her strong Christian faith, a positive rapport with her nephrologist and rheumatologist. Sheree is a grateful mother of four who is active in her church, enjoys Zumba, loves arts and theater and is passionate about youth. Sheree is currently working as a substitute teacher.
Karla Caylor, RN; Clinical Research Nurse, Emory University School of Medicine, is a Clinical Research Nurse and Clinical Trials Coordinator for lupus clinical trials within the Division of Rheumatology.
Thometta Cozart, MS, MPH, CHES, CPH; an expert who completed her fellowship at the Ohio Commission on Minority Health, served on several statewide health equity initiatives including the Ohio Statewide Disparities Collaborative and the Health Policy Institute of Ohio.
Donna Culton, MD, PhD; Assistant Professor of Medicine, University of North Carolina at Chapel Hill, dermatology.
Vanessa Northington Gamble, MD, PhD; Professor of Medical Humanities and Professor of American Studies, an expert in medical history, developed one of the first courses in the U.S. to explore the history of race, American medicine, and public health. Dr. Gramble chaired the Tuskegee Syphilis Study Legacy Committee in 1997 and is currently writing a book on the history of one of the first African-American women diagnosed with lupus.
Barry Gorlitsky, MD; Assistant Professor, VCOM, nephrology, medical spanish.
Camisha Guy, BA; Patient expert. Like many people with lupus, Camisha had been experiencing lupus symptoms as early as elementary school but was not diagnosed until her early twenties. She was hospitalized with complications including swollen lymph nodes (which required surgery) and liver and kidney damage, at which time she was told she would not be able to have children. Camisha completed school after taking some time off to rest her body. She currently lives in Tennessee with her husband and four-year-old son and enjoys educating people about lupus.
Diane L. Kamen, MD, MS; Associate Professor of Medicine, Division of Rheumatology, Medical University of South Carolian, is an expert in the clinical treatment of and research in understanding the natural history of autoimmune disorders, with research focusing on systemic lupus erythematosus. Dr. Kamen serves as clinical director for the lupus clinical trials consortium at MUSC, promotes clinical research at a national level as chair of the southern section American federation for Medical Research, is a member of the Lupus Foundation of America medical-scientific advisory council, and serves on the international level as a member of the Systemic Lupus Collaborating Clinics.
Aisha Langford, PhD, MPH; Assistant Professor, Division of Comparative Effectiveness and Decision Science at New York University Langone Medical Center, an expert in research on health communications and health disparities, uses decision science methodology to conduct translational research to equip underrepresented minorities with communications tools needed to manage decisions about participation in clinical trials and takes part in the Research Recruitment Unit of the New York University-Health and Hospitals Corporation Clinical and Translational Science Institute.
S. Sam Lim, MD, MPH; Professor of Medicine at Emory University School of Medicine and Chief of Service for Rheumatology at Grady Memorial Hospital, is an expert in evaluating and studying lupus health disparities and outcomes, with significant clinical experience and demonstrated ability to engage the patient population in lupus clinical trials, Dr. Lim directs two dedicated clinics for lupus with the larger one at Grady Memorial Hospital, the major indigent care hospital in the Southeast whose patient population is primarily African-Americans of lower socioeconomic status. Dr. Lim also serves as The Lupus Initiative Chair and worked on manuscript development.
Catherine Moore, MD; Assistant Professor of nephrology at the University of Rochester medical center, serves as associate program director for the nephrology fellowship program and has a clinical interest in glomerular diseases.
Tasha Moses, MPA; Strategic Management Services, LLC, President & Managing Principal
Priscilla Pemu, MD, MSCR, FACP; Director of Clinical Trials, Morehouse School of Medicine, is an expert serving as PI on multiple initiatives focusing on hypertension, metabolic syndrome, and endothelial dysfunction in normotensive African Americans. Dr. Pemu received funding to address cardiovascular disparities from the National Heart, Lung and Blood Institute which focuses on educating providers and implementing culturally appropriate intervention programs for patients.
Chris Reed, JD; Georgia Council on Lupus Education and Awareness, Chair.
Christopher Richardson, MD; Instructor, University of Rochester Medical Center, dermatology.
Richard M . Wardrop III, MD, PHD, FAAP, FACP; Associate Professor of Medicine and Pediatrics; Governor-elect, North Carolina Chapter American College of Physicians.
Michelle Wimes, JD; Director of Professional Development and Inclusion, Ogletree, Deakins, Nash, Smoak & Stewart, P.C.
Dissemination Plan Workgroup Members
Yolanda Fleming, DPH, National Medical Association
Diane Gross, Lupus Research Alliance
Allison Kalloo, MPH, Ambassador Health
Bonnie Pobiner, PhD, GSK
Belinda Schoof, MHA, CPHQ, American Academy of Family Physicians
Eleni Victoria, Continuum Clinical
Lindsey Wahlstrom-Edwards, Antidote
David Wofsy, MD, Lupus Clinical Trials Network
Leslie Best, Project Manager for Dissemination Workgroup
This project was supported by Grant Numbers 1 CPIMP171138 and 1 CPIMP181166 from the U.S. Department of Health and Human Services, Office of Minority Health (HHS, OMH). Its contents are solely the responsibility of the authors and do not necessarily represent the official views of the HHS, OMH.