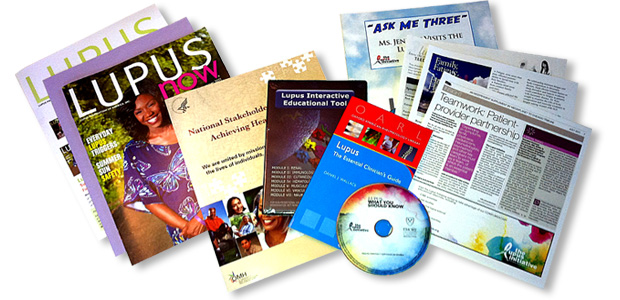 The Toolkit is a compilation of resources providers can use for their own edification in lupus and health disparities and materials designed to help improve interactions with patients. Contents of the Toolkit include:  Click here to request a copy of the Toolkit. 
Information on how to better diagnose and treat lupus:
Lupus: The Essential Clinician's Guide from The Oxford American Rheumatology Library
This concise yet comprehensive text provides practical and evidence-based information to assist in the accurate diagnosis and management of lupus. Includes descriptions of the pathophysiology of the condition, diagnostic strategies and emerging therapeutic options.
Lupus Interactive Educational Tool
This self-directed learning DVD, created under the guidance of an advisory board of lupus experts, is focused on enhancing medical/health professionals understanding of the pathophysiology of the disease. Ideal for use by non-rheumatologists, this interactive tool uses animation, images and other methods to explain renal, immunologic, cutaneous, hematologic, musculoskeletal, vascular, and neuropsychiatric manifestations of SLE. Underwritten by Genentech and Biogen Idec, the tool was developed by Aegis Creative and includes no marketing.
Information on health disparities and social support:
The Lupus Initiative® case statement, underscores the importance of lupus in discussion of health disparities in the US. Written by Consortium member Ed Yelin, PhD of the University of California San Francisco, Lupus: An Important Window onto Health Disparities demonstrates how lupus is an ideal disease for examining health disparities and the roles of genetic predisposition, the role of economic disadvantage, and the effects of racial and gender discrimination in outcomes of patients with SLE.
Created and distributed by OMH's National Partnership for Action to End Health Disparities, the Executive Summary of National Stakeholder Strategy for Achieving Health Equity offers public and private sector initiatives and partnerships a common set of goals and objectives for helping racial and ethnic minorities — and other underserved groups — reach their full health potential.
An article written by Richard Sine for the February 2011 issue of The Rheumatologist, Family, Fatigue, & Heart Health looks at the intersection of family functioning, exercise and fatigue and other factors in the well-being of patients with lupus and was included as yet another demonstration of the importance of treating the whole patient when caring for people with lupus.
A copy of Lupus Now, the magazine published by the Lupus Foundation of America has been included for your waiting or examination rooms. A subscription form has also been included if you would like to continue to receive this quarterly publication.
Click here to view the article "Teamwork: Patient Provider Partnership"
Information to help empower your patients
Patient DVD: "Lupus – What you need to know"
The Lupus Initiative® has partnered with Emory University School of Medicine to create this DVD resource for patients with lupus and those who wish to better understand and support patients living with this persistent illness. The DVD covers topics related to the newly diagnosed patient and those managing life with chronic disease. The DVD, entitled "Lupus – What you need to know," was recorded in English but offers Spanish and English subtitles.Providers may also wish to use this DVD in their waiting rooms or distribute copies to patients and their families/support networks to help them better understand a lupus diagnosis. Individual segments, as well as the entire contents of the DVD are available for online viewing in 2012.
"Ask Me Three" – An Illustrated Story on Adherence "Ask Me Three" is an illustrated story, in a comic book format, inspired by the article Patient-clinician communication key to better adherence by Michael Rapoff, PhD. The adherence graphic highlights the importance of following your doctor's instructions and the value of good communication between patient and physician. This resource is available as part of the Toolkit and as a stand-alone piece through our Web site. English and Spanish versions are available for download. Click here to view and download graphic. Click here to view and download graphic in Spanish.
Symptom Tracker
Tool patients can use to monitor the onset and duration of symptoms between visits in order to provide comprehensive information during examination. Click here to download the PDF. The tool is currently available in English-only.

Click here to request a free copy of the Resources Toolkit.