Lupus may be hard to diagnose. It's often mistaken for other diseases. The signs of lupus differ from person to person. Some people have just a few signs; others have more. Common signs of lupus are:
Extreme fatigue (feeling tired all the time)
Painful or swollen joints
Muscle pain or weakness
Unexplained fever
Chest pain with deep breathing
Depression, trouble thinking, and/or memory problems
Unusual hair loss (mainly on the scalp)
Pale or purple fingers or toes from cold or stress
Red rash or color change on the face, often in the shape of a butterfly across the nose and cheeks
Sensitivity to the sun
Low blood count
Swollen glands
Other signs are mouth sores, unexplained seizures (convulsions), "seeing things" (hallucinations), repeated miscarriages, and unexplained kidney problems.
When symptoms appear, it's called a "flare." These signs may come and go. You may have swelling and rashes one week and no symptoms at all the next. You may find that your symptoms flare after you've been out in the sun or after a hard day at work.
Even if you take medicine for lupus, you may find that there are times when the symptoms become worse. Learning to recognize that a flare is coming can help you take steps to cope with it. Many people feel very tired or have pain, a rash, a fever, stomach discomfort, headache, or dizziness just before a flare. Steps to prevent flares, such as limiting the time you spend in the sun and getting enough rest and quiet, can also be helpful.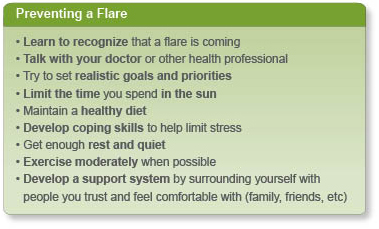 We don't know what causes lupus. There is no cure, but in most cases lupus can be managed. Lupus sometimes seems to run in families, which suggests the disease may be hereditary. Having the genes isn't the whole story, though. The environment, sunlight, stress, and certain medicines may trigger symptoms in some people. Other people who have similar genetic backgrounds may not get signs or symptoms of the disease. Researchers are trying to find out why.
Anyone can get lupus. But 9 out of 10 people who have it are women. African American women are three times more likely to get lupus than women of European descent. It's also more common in Hispanic American/Latina, Asian American, and Native American women.
Both African Americans and Hispanic Americans/Latinas tend to develop lupus at a younger age and have more symptoms at diagnosis (including kidney problems).
They also tend to have more severe disease than women of European descent. For example, African American patients have more seizures and strokes, while Hispanic American/Latina patients have more heart problems. We don't understand why some people seem to have more problems with lupus than others.
Lupus is most common in women between the ages of 15 and 45. These are roughly the years when most women are able to have babies. Scientists think a woman's hormones may have something to do with getting lupus. But it's important to remember that men and older people can get it, too.
It's less common for children under age 15 to have lupus. One exception is babies born to women with lupus. These children may have heart, liver, or skin problems caused by lupus. With good care, most women with lupus can have a normal pregnancy and a healthy baby.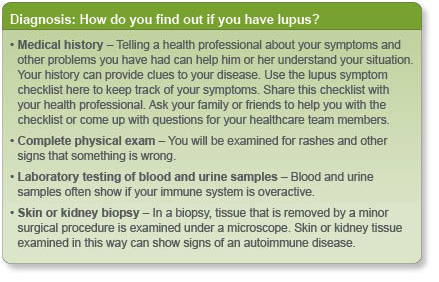 Go see a doctor or other health professional. He or she will talk to you and take a history of your health problems. Many people have lupus for a long time before they find out they have it. It's important that you tell your healthcare team about your symptoms. This information, along with a physical examination and the results of laboratory tests, helps a medical professional decide whether you have lupus or something else. A rheumatologist (ROOM-uh-TALL-uh-jist) is a doctor who specializes in treating diseases that affect the joints and muscles, like lupus. You may want to ask your regular healthcare provider for a referral to a rheumatologist. In some cases, a dermatologist, a doctor who specializes in treating diseases that affect the skin, may be involved in diagnosis and treatment. No single test can show that you have lupus. Your healthcare team may have to run several tests and study your medical history. It may take time to diagnose lupus.
Remember that each person has different symptoms. Treatment depends on the symptoms. Your healthcare provider may give you aspirin or a similar medicine to treat swollen joints and fever. Creams may be prescribed for a rash. For more serious problems, stronger medicines are used. Your healthcare team will choose a treatment based on your symptoms and needs.
Always tell your healthcare team if you have problems with your medicines. Let them know if you take herbal or vitamin supplements. Your medicines may not mix well with these supplements. You and your healthcare team can work together to find the best way to treat all of your symptoms.
You need to find out what works best for you. You may find that a rheumatologist has the best treatment plan for you. Other health professionals who can help you deal with different aspects of lupus include psychologists, occupational therapists, dermatologists, and dietitians. You might find that doing exercises with a physical therapist makes you feel better. The important thing is to follow up with your healthcare team on a regular basis, even when your lupus is quiet and all seems well.
Dealing with a long-lasting disease like lupus can be hard on your emotions. You might think that your friends, family, and coworkers do not understand how you feel. Sadness and anger are common reactions.
People with lupus have limited energy and must manage it wisely. Ask your healthcare team about ways to cope with fatigue. Most people feel better if they manage their rest and work and take their medicine. If you're depressed, medicine and counseling can help.
Also:
Pay attention to your body
Slow down or stop before you're too tired. Learn to pace yourself. Spread out your work and other activities
Don't blame yourself for your fatigue. It's part of the disease
Consider support groups and counseling. They can help you realize that you're not alone. Group members teach one another how to cope
Consider other support from your family as well as faith-based and other community groups
It's true that staying healthy is harder when you have lupus. You need to pay close attention to your body, mind, and spirit. Having a chronic disease is stressful. People cope with stress differently. Some approaches that may help are:
Staying involved in social activities
Practicing techniques such as meditation and yoga
Setting priorities for spending time and energy
Exercising is another approach that can help you cope with lupus. Types of exercise that you can practice include the following:
Range-of-motion (for example, stretching) exercises help maintain normal joint movement and relieve stiffness. This type of exercise helps maintain or increase flexibility.
Strengthening (for example, weightlifting) exercises help keep or increase muscle strength. Strong muscles help support and protect joints affected by lupus.
Aerobic or endurance (for example, brisk walking or jogging) exercises improve cardiovascular fitness, help control weight, and improve overall function.
People with long-lasting diseases like lupus should check with their healthcare professional before starting an exercise program. Learning about lupus may also help. People who are well informed and take part in planning their own care report less pain. They also may make fewer visits to the doctor, have more self-confidence, and remain more active. Women who want to start a family should work closely with their healthcare team; for example, doctors, physical therapists, and nurses. Your OB/GYN and your lupus healthcare team should work together to find the best treatment plan for you.